When is Black Friday 2019 in Singapore?
Black Friday 2019 will fall on the 29th of November, soon after which will be Cyber Monday on the 2nd of December this year! Cyber Week includes both Black Friday and Cyber Monday so to all you shoppers out there, you should look out and stay tuned for all the deals that you will be able to get for your shopping needs during the entire week.
What is a Black Friday sale?

Black Friday is an annual event that takes place both in-stores and online for shoppers all over the world. In America, it is known to be the start of the Christmas shopping season, as most employees across the country are gifted with a day off to spend the holiday with their families and get a headstart on their Christmas shopping haul. Over the years, Black Friday has gained momentum as one of the busiest shopping days of the year in the United States.
Apart from it being a holiday for some, it is a day anticipated by all shopaholics out there to get extensive promotions and discounts from their preferred retail stores. Supermarkets, department stores and online retailers announce their Black Friday sales weeks ahead of time to leave shoppers with a sense of anticipation of what's to come.
Cyber Monday and Cyber Week
As Black Friday originated as an event for physical stores, Cyber Monday was brought into the shopping world as the online counterpart to the Black Friday sales. Now, you can find Black Friday sales both in-stores and online, providing people with more discounts and deals to look forward to apart from Cyber Monday. This year, Cyber Monday will fall on the 2nd of December and is not-to-be-missed for all retailers and shoppers. Finding a store that won't be participating in Cyber Monday this year will be almost impossible.
Cyber Week is the entire week that encompasses both Cyber Monday and Black Friday, and it usually begins on the Monday that antedates Black Friday sales. Online retailers usually start to release their discounts and codes to the world at the beginning of Cyber Week to give shoppers a snippet of the sales that is going to happen on Black Friday and Cyber Monday. Shoppers who have been adding items to their wishlist before Black Friday can get bargains and deals on the items they've been looking out for without worrying about them running out of stock too soon.

Here are a few tips on how to snag the best Black Friday discounts:
1. Add items to your wishlist ahead of time
As most activities require preparation, it's no surprise that shopping does too! To make sure you get the best deals on your shopping this Black Friday, scroll through your favourite shopping sites and add all your items to your cart a few days ahead of the sale. This way, when the sale starts, you'll be ready to checkout, fuss-free!
2. Shop online instead of in-store
If you think you won't be able to handle the crowds of the Black Friday sales in-store, shop online instead! Most deals you see in-store will be available online, and heck, you may even find coupon codes and other discounts that will help you save even more on your purchases!
3. Follow your favourite retailers' social media
It's a known fact that the best way to know what deals and promotions are coming up for the sales is to follow your favourite stores on their social media platforms. Sale season is the best time to hit that "like" button as you'll most likely be able to zero-in on the deals they will be putting up during the Black Friday sales, both online and in-store.
4. Sign up for mailing lists
Do this for every retailer that you want to be scoring deals from. Newsletters are the best way to get updates on promotions and deals beforehand as retailers are always quick to send out newsletters to their subscribers regarding their Black Friday & Cyber Monday deals. Newsletters can be sent out days prior to Cyber Week or on Cyber Week itself so it's a great way for you to start adding items to your cart and see what you'll be able to save on during the Black Friday & Cyber Monday sale itself.
5. Head down to websites like Saleduck.com.sg!
To get access to the best deals and coupon codes from different retailers all in one place, you should definitely sign up as a member of the Saleduck Deal Community! You'll get priority access to promotions and codes during the Black Friday and Cyber Monday sales before the sales begin.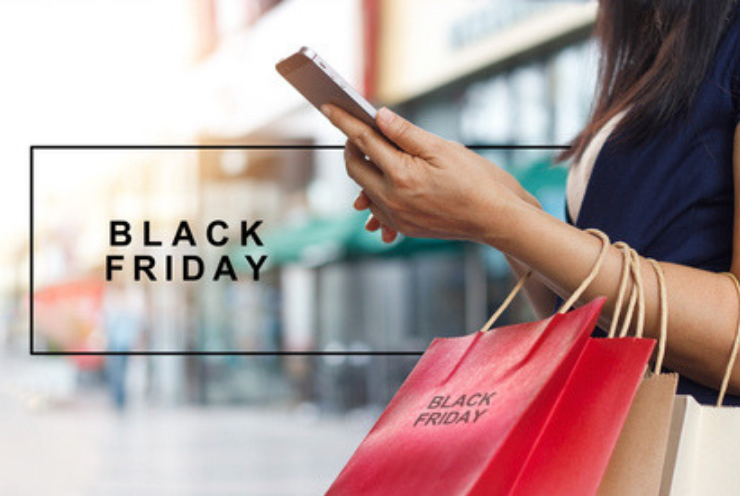 Safe Shopping this Black Friday 2019
Although online shopping nowadays is relatively safe, cybercrime is still a major concern amongst shoppers out there. Cases of phishing, scamming and fake websites are common occurrences whilst online shopping.
This should not prevent you from taking part in this year's Black Friday & Cyber Monday sales, but you should be on high alert and wary of the purchases you make online. It is important that you are well informed about cyber crime and what you can do to keep your information secure.
Here are some examples of how cyber crime can happen:
Fake links are usually used to redirect users to false websites that sell 'fake' products (or no products at all), or in other circumstances, will install viruses and malwares onto your computer once you click on the link. Links like such always come up when a user searches highly used keywords like "Best Black Friday deals" and more.
Phishing is common practice in cybercrime and it refers to to an the attempt to obtain sensitive information from random victims such as their usernames, passwords and credit card details by using a disguise. These e-mails often seem like they come from a trustworthy source and people end up getting swindled when they respond to these emails with trust.
Hackers or cyber terrorists still lurk around the cyber world although people are becoming more aware of these activities.
To ensure your safety while you shop, make sure you always:
Think twice before you click on a link
Refrain from sending out your information to third-party sites
Have security software installed on your computer/phone (that is updated)
Always check if the website has a secure connection
Here are some tips to shop online safely:
Be on high alert for fake links, websites and more. Don't click on random links from e-mailers that do not seem familiar. Instead, you should search for the URL of the website you want to shop from.
Always read website reviews before shopping on it. Ensure that the website you are shopping from is trustworthy and has honest reviews from real customers.
Stay conscious of the passwords that you create online. When creating passwords, make sure that they are complex and cannot be easily guessed This can be done by including symbols, uppercase & lowercase letters, and numbers in your passwords.
Do not use public or shared Wi-Fi connections or computers. If you do have to, do not make a payment or key in any private information until you can get to a private connection.
To know if you are on a safe website, check for a 'padlock' icon on your browser. This icon indicates that you are on an encrypted website and will keep you protected from any fraudulent activity.
After making your final payment on a site, cross-check your payment to see if you have been charged the right amount as the amount you paid on the site.
Black Friday Frenzy
It is known to be one of the craziest shopping dates worldwide, with shoppers going all out, shopping till they drop in-stores and online. Take a look at the madness of shopping in-stores during Black Friday in the US in the video below:
Want to skip the lines and craze in-stores shown in that video? Start shopping online instead!